The National Film Academy announces White Glo as one of the brands to join the sponsors list for this year's prestigious 3rd annual National Film Awards taking place on the 29th of March 2017.
White Glo were the first company to introduce teeth whitening products to the Australian market and were originally formulated for actors and models. They are now market leaders within the teeth whitening industry and can be found across the UK and the rest of the world. White Glo prides themselves in providing consumers with the most effective teeth whitening results, to give everyone the opportunity for a brighter, whiter smile.  Over 1.9 million fans cast their vote across 18 categories to decide the nominations and movie fans can now vote for the winners on the official Academy website at  www.nationalfilmawards.org  until the 23rd of March 2017.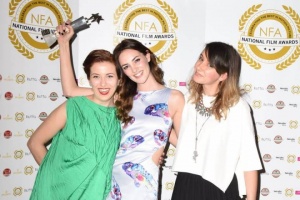 White Glo  sponsors  the Best Newcomer category whose nominees include;
Lucas Hedges , Laia Costa , Tom Holland, Ruth Negga , Anya Taylor-Joy , Avin Manshadi , Jana Perez , Morfydd Clark.  Voting for the Best Newcomer and all other categories are ongoing until the 29th of March 2017 when final winners will be announced.
White Glo UK commented "White Glo Teeth Whitening products were originally formulated for Film actors and models who require the utmost onscreen facial beautification. Therefore we are so proud to be involved with the National Film Awards and seeing all the nominees putting their best smile forward".
Legends, Sir David Jason and Nicholas Lyndhurst from the hit Sitcom, Only Fools & Horses are set to receive the prestigious 2017 Lifetime Achievement Award . The Academy's most important award previously won by Dame Judi Dench (2015) and Helen Mirren (2016).
Follow White Glo UK :
Twitter – @WhiteGloUK
Instagram – whiteglouk