Idris Elba, Michael Caine, Ricky Tomlinson and Rupert Everett win big at the 5th annual National Film Awards UK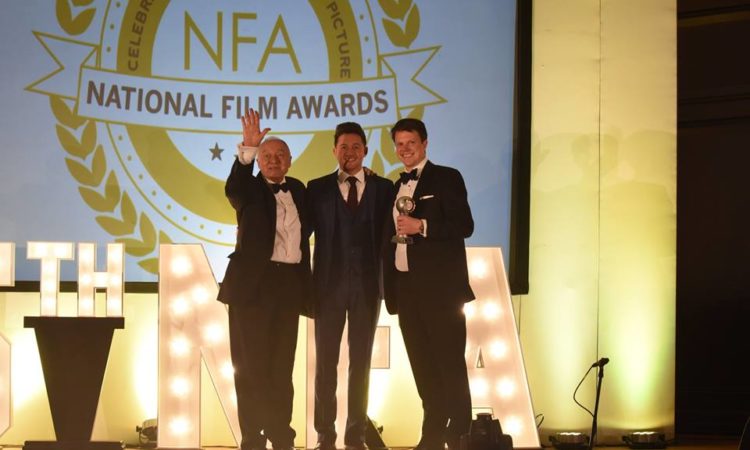 Idris Elba scored two wins, picking up Best Drama and Best Director for his directorial debut with film 'Yardie'. Ricky Tomlinson picked up Best Supporting Actor for his role in Gloves off whilst Michael Caine was voted winner of the Global Contribution to Motion Picture at this year's 5th anniversary of the National Film Awards UK.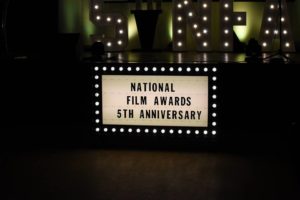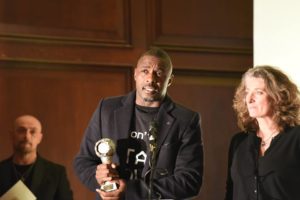 The awards held by the National Film Academy is going from strength to strength after recently launching the US version in Los Angeles last year. Over 2.5 million film fans voted this year and the winners were announced by TV Presenter Louise Gookey on Wednesday, 27th of March at the prestigious annual awards ceremony in London. Sylvia Young received an Outstanding Contribution Award for several years of supporting actors, actresses and filmmakers through the Sylvia Young Theatre. Former celebrities who attended the Sylvia Young Theatre school including; Tamzin Outwaithe, Tom Fletcher, James Borthwick , Saphire Ella and Rita Ora and Nathan Sykes graced the stage to celebrate and honour of Sylvia Young who has contributed so much to the industry.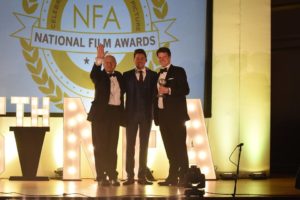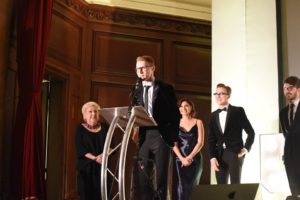 The annual award show celebrates the work of established and independent film makers. This year a total of 2.5 million public votes where received and tonight the winners for all categories where announced at the prestigious annual event. The National Film Awards this year celebrates it's 5th anniversary tonight. The awards show is also held annually in the USA. The US awards show 'National Film & TV Awards' takes place at the Globe Theatre in LA on the 3rd of December 2019.
Here are the winners of this years 2019 National Film Awards:
Best Animation Film
Sherlock Gnomes
Best International Film
Black Panther
Global Contribution to motion picture
Michael Caine
Best Director 2019
Idris Elba (Yardie)
Best Actor 2019
Rupert Everett (The Happy Prince)
Best Actress 2019
Sophie Kennedy Clarke (Obey)
Best Newcomer 2019
Justin Clarke (The Intent 2)
Best Supporting Actress 2019
Charlotte Milchard (Scott and Sid)
Outstanding Contribution Award 2019
Sylvia Young
Best Drama 2019
Yardie
Best TV Drama Series 2019
Collateral
Best Thriller 2019
Red con 1
Best Action 2019
Intent 2
Best Independent Film 2019
Dead Ringer
Best Screenplay 2019
16/03
Best Documentary 2019
After the Screaming Stops
Best British Film 2019
Scott & Sid
Best Comedy 2019
The More You Ignore Me
Best Breakthrough Performance 2019
Justin 'Ghetts' Clarke
Best Feature Film 2019
Gloves Off
Best Producer 2019
Kristian Brodie (Beast)
Best Film Distribution Company 2019
Evolutionary films
Best Film Production Company
Carnaby International
The 5th annual National Film Awards sponsored by Zuricom Money (Presenting sponsor) , Heineken, Co-ordination, Raspa, FashionNitty.com, Naurah USA, Susannah King Jewellery , VooVix, AZ Luxe, Badass Ties, Spirit of Harrogate , Jennings & Co Financial Planning
The National Film Academy is already working on the National Film & TV Awards taking place in Los Angels on the 3rd of December 2019. If you want to become an academy member . E-mail: academy@nationalfilmawards.co.uk
Tags :
5th annual National Film Awards
featured
home
National film Awards 2019
National Film Awards UK
National Film Awards Uk Winners 2019
NFA
NFA Academy