REVIEW: Maryam Raya rendition of Rachmaninoff and Hofmann are both thoughtful and insightful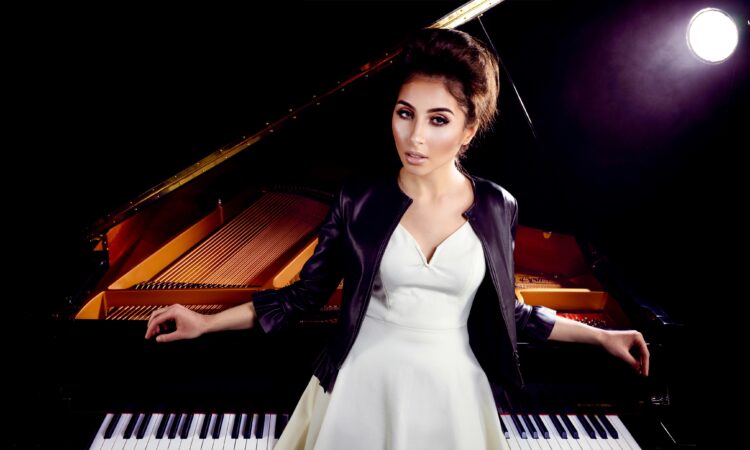 At the age of nine, Maryam performed her first piano recital. By the age of fourteen, her virtuosity immediately attracted professional reviews, which led to her first appearance in Carnegie Hall at the age of sixteen. Since then, Maryam has performed recitals worldwide, including in countries such as England, Spain, France, Italy, China, Estonia, Latvia, Finland, and Dubai. She possesses an extensive and diverse piano repertoire, including numerous solo programs and over thirty concerti for piano and orchestra.
Maryam Raya boasts a resume of competition victories and concerto performances that is quite impressive for such a young musician. What interested me the most was how she was going to handle her varied and eclectic program. Was this going to be a display of sheer technique, which so many young players seem to have in abundance, or was it going to be something more? The answer was forthcoming almost immediately.
Reviewing her performance filmed at Manhattan's Blue Building, at the center of Manhattan with her production team. Maryam Raya plays on an antique mahogany Steinway that would have been popular during the composer's time, Rachmaninoff. Sergei Rachmaninoff was one of the last great pianist-composers in a grand tradition stretching back to Mozart, Beethoven, Liszt, and Brahms. Rachmaninoff pushed the values of the Romantic era deep into the 20th century.  The Steinway is a fine sounding instrument, with a clear tone in the upper registers that is never strident.
Maryam performed the entire set of Rachmaninoff op. 32. The Op. 32, is a set of thirteen preludes for solo piano, composed by Sergei Rachmaninoff in 1910. It complements his earlier Prelude in C♯ minor, Op. 3/2, and 10 Preludes, Op. 23, to complete the full set of 24 Preludes in all 24 major and minor keys.   In her performance, she provides the audience with an engaging rendition of the entire set which oozes passion and also serves as a catalyst to bring classical music to younger audiences through this captivating performance. The playing here is a model of restraint and good musical sense; nothing is pushed too hard as if clarity matters above everything. Her overall performance is a model of thoughtfulness and insight.  She demonstrates a keen intelligence, strong technical command, and impressive stamina, with a physical approach that is strong but undemonstrative. There was much to commend about each of the character pieces.
She describes the second to last one as having a special significance for her as she performs music written by legendary pianist, Josef Hofmann who was a contemporary of Sergei Rachmaninoff. In my several decades as a journalist, I met a few pianists who met Josef Hofmann at his prime. One of which was the amazing pianist,  Earl Wild who acknowledged Josef Hofmann's style as the biggest influence on him gaining a fluid and flexible technique. Maryam was clearly inspired and certainly, her performance of Hofmann's work transformed it from a standard example of  20th-century classicism into a piece of engaging elegance and wit that stood up well alongside the convention-busting exuberance of early Hofmann. Her typically crisp rhythms and clean, crystalline sound gave it buoyancy and sparkling vitality. The solo playing in the Hofmann was just as poised and controlled, but the effect was far grander and more imposing, even wild in the finale so that it seemed to come from a different world altogether, far away from the Rachmaninoff piano concerto, which seems to have served as Hofmann's model.
In an ideal world, "gender politics should have no place in the arts". However,  in the real world the history of the arts including classical music, women were systematically denied comparable opportunities to express themselves. The balance has certainly shifted in the realm of composition of orchestras and in soloists where women have much better representation, and correctly so. Likewise, opportunities for female composers are equally better now. Maryam Raya's boldly assertive playing makes an excellent case for all of this music playing eloquently unfussy arrangements that never obscure their intrinsic beauty. As an award-winner of numerous piano competitions, Maryam has performed recitals throughout the United States and at world-renowned venues such as Carnegie Hall, The Kennedy Center, Lincoln Center for the Performing Arts, The National Gallery of Art, The Phillips Collection, Tenri Cultural Institute, The National Opera Center, The Kosciuszko Foundation, the Smithsonian Institution, the Embassy of Poland, and the Embassy of France, among others and this performance goes to show that the best is yet to come.  Maryam Raya is a first-rate pianist. Anyone who values substance over style should make it a point to hear her in performance. 
Watch Maryam Raya performance on Facebook Live by clicking here
Tags :
Earl Wild
Josef Hofmann
Maryam Raya
Sergei Rachmaninoff
Steinway